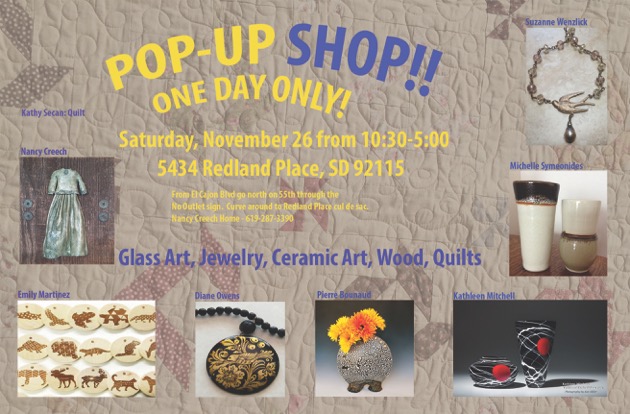 One Day Pop Up Shop !
Saturday. Nov. 26
10:30 am - 5 pm
5434 Redland Place, SD 92115
Leave the crowded malls behind !
Join the #Shopsmall movement, t
reat yourself to a wonderful collection of gifts and treats created by eight fine artisans, and b
rowse among glass art, quilts for the holidays, beautiful ceramic vessels and decor, jewelry with sparkle and jewelry of fanciful adornments, and etched wood discs to spark your imagination.
Work by:
Pierre Bounaud - Ceramics
Emily Martinez - Wood
Kathy Secan - Quilts
Michelle Symeonides - Ceramics
Suzanne Wenlick - Jewelry